The Lions tested the world champions but, ultimately, the All Blacks run riot against them in the last 20 minutes.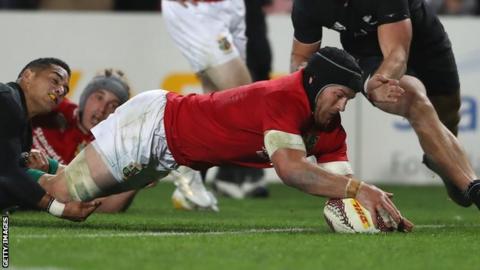 The Lions started very convincingly in the first 5 minutes with Jonathan Davies creating an opportunity for Elliot Daley to score but couldn't manage to ground the ball. The first quarter of an hour was very interesting because the Lions looked the better team.
After this period, the All Blacks dominated possession and seemed to make 2 meters every time someone held the ball. This eventually led to a try that came from a quick tap when a penalty was given to New Zealand. They passed it wide with quick hands to Codie Taylor who picked it up from his shoelaces before diving over the line.
35 minutes in, one of the great tries of Lions history was scored. It started with Liam Williams who beat 3 players and ran 50 meters before offloading to Jonathan Davies. After multiple offloads; Sean O'Brian was the player who finished the move by scoring the try.
Like the first half, the Lions started very strongly. There were many chances to score a couple of tries but none of them ended up on the far side of the white line. I started thinking lots of "What if 's?" With Kieran Read's try and Beauden Barret's impeccable boot, Rhys Webb's last minute try was only a consolation try.
The All Blacks were in the form most Lions fans had feared. Only once have the Lions won a series in New Zealand and even though there is still a chance; winning the series isn't looking very likely at all. Can the Lions beat New Zealand twice in a row? We'll have to wait until the next couple of games to find out.